Fighting To Change Laws On Sexual Grooming
The Cobb Family has had an overwhelming response to those who have donated to Justice for Jennifer. They would like to thank each one of you for the love, prayers, and support that you have shown. Your generosity will never be forgotten.
However, their fight is not over. They are continuing to fight for Jennifer's justice and justice for the other victims in this case.  Money is still being raised for short- and long-term goals.
Short-term goal is to change laws in Georgia!

1st change the statute of limitation laws so that the other victims' voices can be heard. Research has shown that children who are groomed do not tell, at least not until they are older adults.
2nd change – If an adult witnesses a child being molested then their statement should at least prompt an investigation.
Educate the community on sexual grooming, sexual abuse, and sexual molestation.

Long Term goals we are advocating for:

Stronger laws to help victims.
We need victims' rights upheld.
We need more funding provided for more prosecutors and victim advocates.
We need trained prosecutors, trained advocates, and trained law enforcement.
We need for our government to stop reducing funding! More funding is needed to get predators off our streets and locked away!
We need law enforcement's policy to be straight forward on how to handle these cases of sexual grooming, sexual abusee, and child molestation.
We need to define judicial misconduct for example victim shaming. The judge at the bond hearing asked Jennifer was she jealous of the other children? That is victim shaming and it must stop!
We need to teach about sexual abuse and sexual grooming in schools as soon as elementary level. We need to teach how to recognize sexual groomers as well.
There should be no statute of limitations for sexual grooming, sexual abuse, or child molestation! Especially if they are 18 years and younger. This should be changed nationally! Laws need to be changed immediately and all victims grandfathered in regardless of their age.
Make these changes national!
Build a center located in Hartwell, Georgia to help such victims, a haven "Jennifer's Haven – I believe you".
We are pleading with our communities and nation to help me lobby for change in these laws. Help us make our communities safe again. We must protect our greatest resource "our children"! Jennifer courageously and with such bravery started this fight. She came forth and did what most adults are unwilling to do. She did not want this to happen to another child. She did not want another family to be broken again by the acts of such an evil person. Her fight started in her hometown of Hartwell, GA., but we pray you will help us win her fight not only in Hartwell but the state of Georgia and across our Great Nation. Let her death not be in vain! Let her voice be heard loud and clear! Let her beautiful soul and God's justice shine light on this darkness!
Thank you again for all of the donations given to help bring Justice for Jennifer and support this cause. Continue to pray the light will shine on this darkness. Jennifer's courage, bravery, and death has opened the door for other victims to be heard. We hear you Jennifer! We believe you! Sadly, Jennifer ended her life on 6/30/21. The sexual grooming, abuse, and molestation, and the treatment received at the bond hearing were too much for her to bear. She felt her voice would not be heard. She felt her life did not matter. Your death Jennifer will not be in vain.
Email Us To Donate or Order
Please note, all proceeds go to the Cobb family to purchase educational materials such as the "Good Touch/Bad Touch" coloring books that are given to families at community festivals, and for any legal expenses that are incurred in our fight to change the current laws.  
Should someone not be able to afford an item that they would like to order, please send an email to justiceforjennifercobb@gmail.com or fill out the form with your contact information and what item you would like to order. 
Thank you for your support.
Email: justiceforjennifercobb@gmail.com
All proceeds go to support changing laws to help victims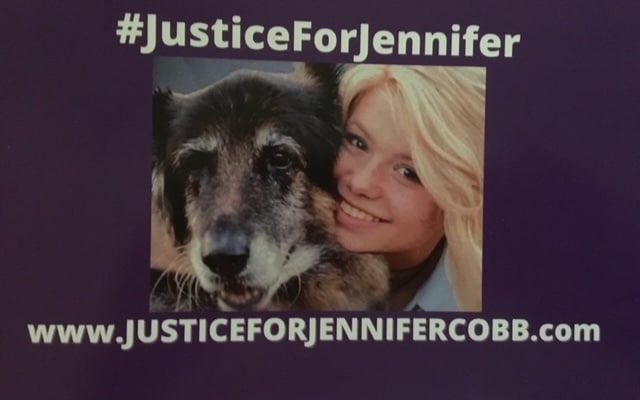 Bumper Stickers
Small Bumper StickersFor any donation amount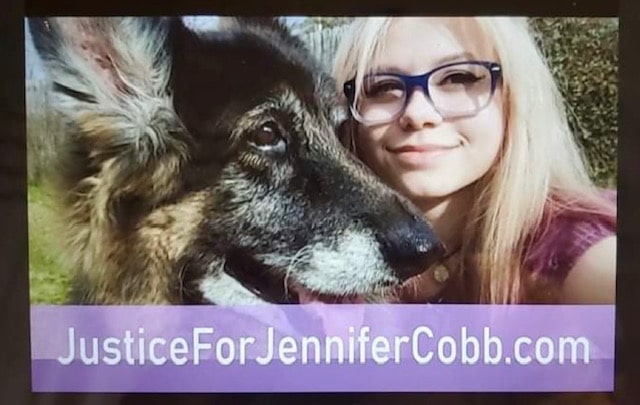 Yard Sign - Option 2
Justice For Jennifer Yard Sign - $20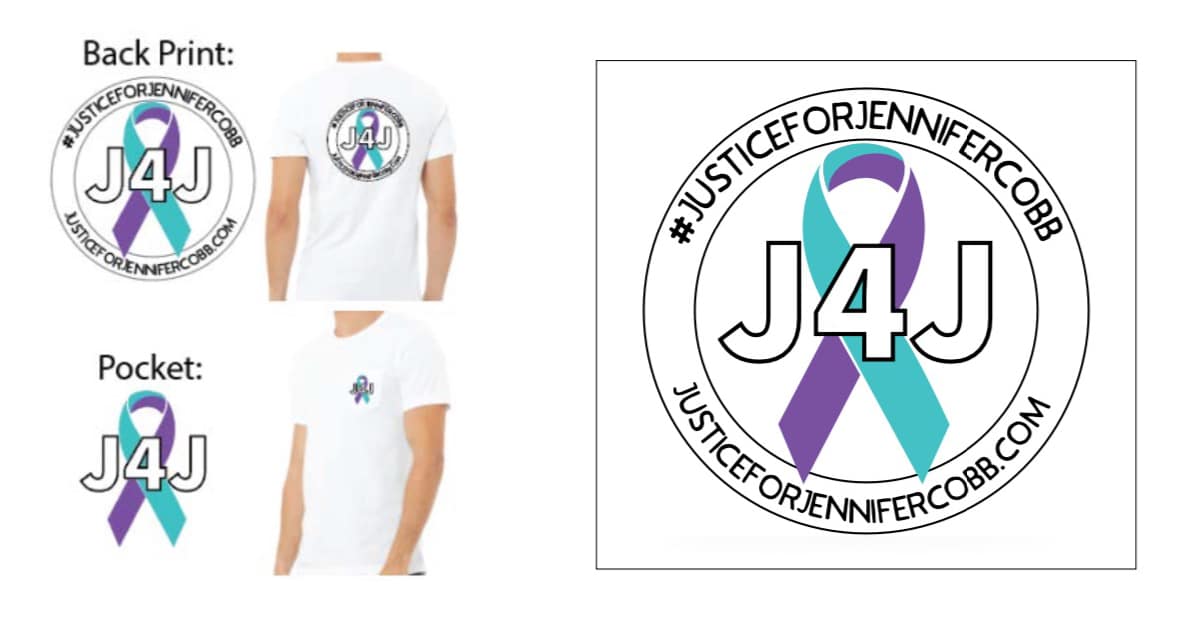 T-Shirts
Justice for Jennifer T-Shirts All Sizes - $22.00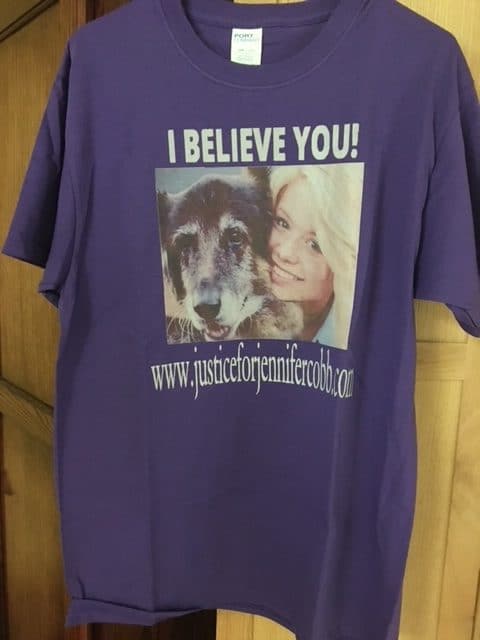 T-Shirts
Justice for Jennifer T-Shirts
Size small - XL $22 | Plus and Tall - $22